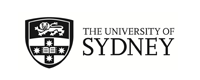 The George Washington University EXC
Washington DC, United States
(Outgoing Program)
Program Terms:
Program Terms:
Semester 1,
Semester 2,
Year (Sem 1 & Sem 2),
Year (Sem 2 & Sem 1)

Partner University Homepage:
Click to visit
Program Details: - unrelated header
Program Details:
Program Description:
Program Description:
About
The George Washington University

Location: Washington, DC
Year Established: 1821
Student population: 25,000

About
Located in the heart of Washington, DC, the George Washington University (GW) is the largest institution in the District of Colombia. It offers a rich academic environment that aims to produce the next generation of leaders, with world renowned professors and all the intellectual resources of Washington. Its famous alumni include J. William Fulbright, the creator of the Fulbright scholarships, J. Edgar Hoover, Jacqueline Kennedy Onassis and Colin Powell.

The George Washington University was created in 1821 through an Act of Congress, fulfilling George Washington's vision of an institution in the nation's capital dedicated to education and the preparation of future leaders.

Highlights
Located among the most powerful institutions in the world, the George Washington University offers students the opportunity to work and study alongside some of the country's influential leaders and academics. It has three campuses - Foggy Bottom and Mount Vernon in Washington, DC, and the GW Virginia Science and Technology Campus in Ashburn, Va. GW is known for its traditions and distinctive jargon. There's a lively sports program and arts and culture are an essential part of life at GW.

An important reminder for students - exchange students are eligible to hold an internship after completing one academic semester of coursework at GW. Many academic year students will hold an internship here in D.C., the nation's capital, during the spring semester, and both academic year and spring students will at times hold summer internships here. Students have interned for the EU, various embassies, cultural organizations, U.S. Senators' offices, and more.

Unique characteristics
The University offers a wide range if disciplines. It has modern facilities, including a capital markets trading room and multimedia lecture halls. Undergraduates have the opportunity to participate in research and there are more than 72 majors on offer, covering business, engineering, international affairs, communications and media, sciences, math, social sciences, arts, languages and the humanities.

In addition to engaging in rigorous academic programs, GW students value the energy and excitement of the university's social and service-oriented communities. Students take full advantage of the fact that the world intersects GW's campus and participate in a wide range of cultural, political, culinary, and social ventures off campus.

Location
The main Foggy Bottom campus is in the middle of the city, close to the Potomac River, the Watergate complex, the White House and the State Department. Washington DC is full of iconic museums – the National Air and Space Museum, National Museum of Natural History, National Museum of American History among others, which are all free – monuments such as the Lincoln Memorial and Vietnam Veterans Memorial, numerous arts and culture institutions, and, of course, the seats of power.
Academic Information
Academics at GW
At GW, faculty and students not only study the world but also work to change it. GW provides a rare combination of academic resources in an engaging university setting in the heart of Washington, D.C. Offering a wide selection of learning experiences -- from lectures and seminars to hands-on labs-- partnerships with organizations and museums, a world-class library, and state-of-the-art technology, GW's goal is to prepare students to become citizens of a global society ready to face the challenges of this still new century.
Courses Available
Exchange students may enroll in any of GW's six undergraduate schools and take undergraduate courses in any subject area. A sample of the various disciplines includes:
American Studies

Business Administration

Communications

Engineering

History

International Affairs

Marketing

Media and Public Affairs

Political Science
Subject Area/s:
| | | |
| --- | --- | --- |
| Arts and Social Sciences | Business | Science |
| Agriculture | Engineering | Music |
| Visual Arts | Architecture | Education |
Exclusions apply: Exchange students may not enroll in the following courses: graduate level courses (labeled 4999 and above), courses in the fields of interior design & architecture, law, nursing, medicine, or courses in the Semester in Washington Program (denoted as PGMT).

Teaching Periods: Semesters/Terms
Fall Semester: Classes begin at the end of August and final examinations will conclude at the end of December.
Spring Semester: Classes begin mid-January and final examinations will conclude by the end of May.
Credit (Full-Time Load/Semester)
| | |
| --- | --- |
| University of Sydney | Host University |
| 24cpts | 15 Credits |

The above full-time load is indicative only.
Applications for academic credit are assessed by the relevant University of Sydney faculty/department based on: study load, contact hours, assessment requirements and level of study.

Grading System
Letter grades at the host university. More information on the host university's grading system.

Transcripts Issued by Partner
Transcripts will be available at the end of your exchange period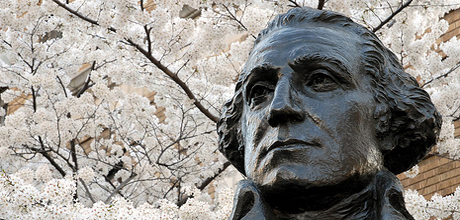 Languages
Language of Instruction
Classes at the host university are taught in English.
Language Requirement
See language requirement for non-native speakers of English.
Living
What is the host city like?
Washington, D.C., the nation's capital and one of the most livable cities on the East Coast, is a welcoming and dynamic urban center filled with students and young professionals. With residents of every nationality and culture, D.C. truly brings the world together to do the nation's business.

Exchange students quickly discover the many amenities and activities that Washington, D.C., offers toenhance their time at GW, including museums, restaurants, shopping, walking and biking trails, a full array of professional sports teams, festivals, and cultural celebrations.

Just steps from GW's Foggy Bottom Campus,D.C.'s safe and accessible Metro rail system and multiple other transportation options put the entire city at the students' fingertips.

To take a virtual tour of the GW campuses, click here.

Accommodation
For most students, becoming a member of a new community of peers while taking on the responsibilities and challenges that independence brings is an exciting and essential part of the university experience. GW works hard to ensure a positive transition to campus living. Residence Halls offer weekly programming for students. From movie nights and study sessions, to cultural panels and outings to local eateries, residence life provides fun opportunities for students to get to know the students in their campus community.

Exchange students are typically housed in a residence hall apartment with three roommates and a shared bedroom. The living situation does vary by assignment; however, students should anticipate having one or more roommates in their apartment and one roommate in their bedroom during their time in GW campus housing.

Single bedrooms are generally not available to students unless there is a specific housing accessibility accommodation that is needed.

Cost of Living
GW has provided this guide to estimate living expenses associated with studying overseas.

Insurance
Exchange Students entering GW are required to have health insurance coverage that will be in effect during their time abroad. To ensure that students have adequate coverage while at GW, all admitted exchange students will be automatically enrolledin the GW Student Health Insurance Plan offered through Aetna. More information on GW Health Insurance.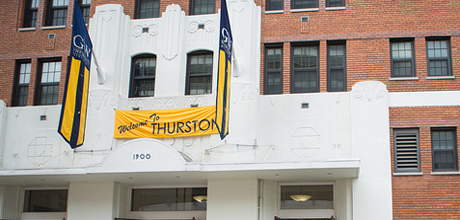 Useful Information
For Exchange/International Students
Specific information for exchange students provided by the host university

Semester/Term Dates
Access the University's calendar

Orientation
Exchange students participate in a week-long mandatory orientation program prior to the start of the semester. This orientation is run by the Office for Study Abroad and GW student volunteers, who have recently studied abroad. Orientation sessions are designed to answer questions about billing, class registration, and adjusting to life in the United States. Exchange students also are given assistance in setting up bank accounts, purchasing cell phones, learning the metro system and many more essentials. Other orientation events vary by semester. In past years, activities have ranged from a day-trip to a local tourist destination to visiting the Air and Space museum and touring D.C.'s famous Eastern Market. Our goal is to create a fun and helpful first week on campus that helps prepare our international exchange students for campus life and connects them to GW students from the start. To be prepared to participate fully in orientation, students should plan to arrive on campus at least one week prior to the start of each semester.

Support Services
At the George Washington University they want all of our students to succeed and they provide resources to help them do so. They support academics with faculty members, tutoring services, and academic advisors. They also offer programs that support life outside the classroom, like the CARE Network and the Colonial Health Center.
Visas
Information from the GW University
Information from the Embassy of The United States in Australia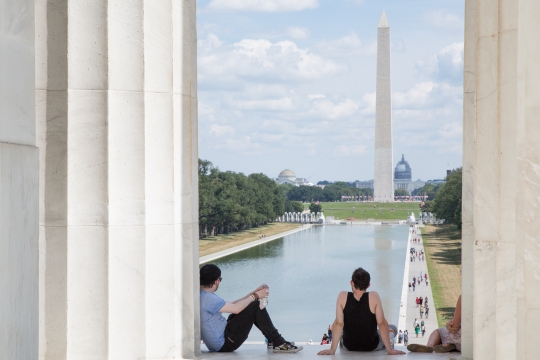 Student Experiences
Kinsha Baidya
Bachelor of Arts, Semester 1, 2018

Host City Highlights
The musuems, White House, Library of Congress, White House - all the big institutions.

Uni Life
There is a volunteer program that you can join and there is usually an open day for clubs and societies at the beginning of semester. Due to the large number of bars in the area - I would encourage over 21s to go. Met local students through the fantastic engagement program that GWU runs - basically made friends through this program (mentors) and through class.

Study
A lot of the classes have plenty of assessments with small percentages which I knew would annoy me, so I found classes that had a similar structure to Sydney. Typically, there are either two classes (75 minutes) or one class (150 minutes) in a week in a small lecture format. Usually, there are about 40 students in class and class participation (turning upto class and actually saying something) can be mandatory as is worth upto 20% of your final grade.

Cuisine
Coffee can be a problem... I would recommend going to Grace Street Coffee in Georgetown or Emissary on 21 & P.

Housing
Living on-campus is expensive, but very handy. I made most of my friends this way - and made friends from all around the world. I ended up living with two guys from France and a guy from Florida in my apartment - which was two rooms. Sharing a room was an interesting experience!

Money Matters
I didn't have a budget, however, found a cool trick. I opened up a Citibank account in Australia (free) and withdrew money in the United States from ATMs and then just walked the money into my American bank account.

I found that Citibank had better rates than money exchange cards.

Getting Around
The metro can be confusing if you are in rush since there is a lack of maps - otherwise it's pretty good. The bus system though is pretty confusing.

Travels
New York - go via Boltbus! Book early to get the best deals. Sign upto JetBlue's emails, you'll get some great deals.

Top Tips
The classes can be pretty easy, so if you want a challenging study experience - this university isn't for you. Also for those on having an internship at the end of semester, apply early or make sure you are there for a year.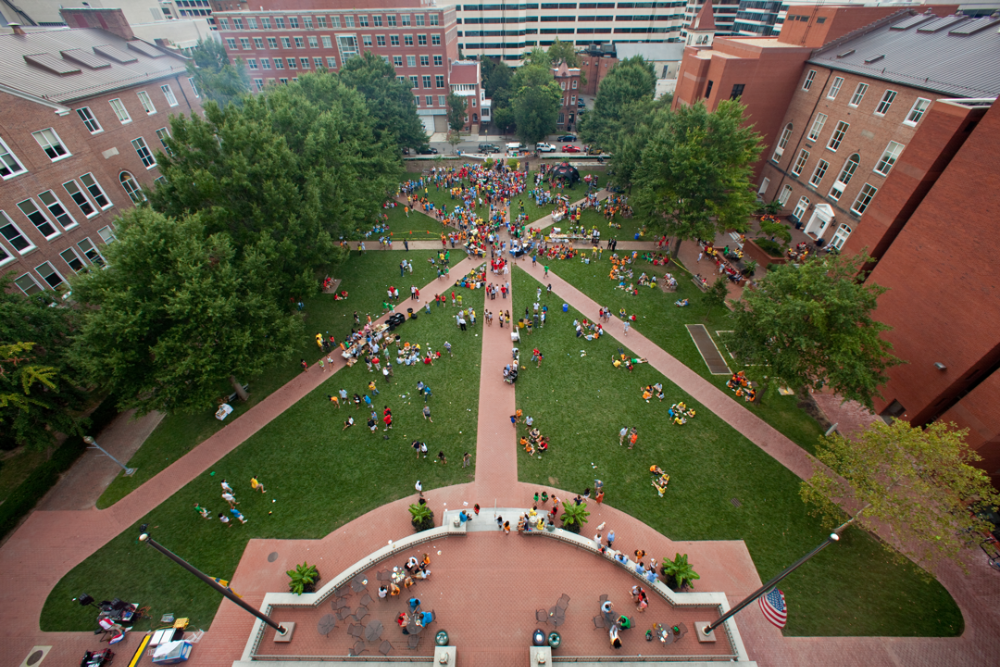 Tessa Maye
Bachelor of Arts, Semester 1, 2018

Host City Highlights
Museums, galleries, cupcake shops, monuments etc.

Uni Life
Lots of clubs and societies, lots of exchange students, through living arrangements in dorms I met lots of lovely people and in classes

Study
About the same amount of hours as at Sydney (12-14/per week) so lots of time to travel, classes range from 20-30 people, there are more assessments but they are easier than Sydney with a mix of tutes and small lectures in class rooms. You have to attend everything!

Cuisine
Multi-cultural! Baked and Wired cupcakes and coffee is the best in DC for sure. I also had amazing ramen close to campus and of course yummy burgers and pizzas.

Housing
It was all organised for us which was so easy and great. I lived with all GW students which meant I had an "in" to the American culture and got to learn more about the school faster. I would definitely recommend as everyone lives on campus for the first two years at least!

Money Matters
I saved a lot of money... I spent at least $150 on food a week. Whole-foods is on campus and good but expensive. As long as you save and budget your money you will be fine. I didn't work at all... .

Getting Around
Everyone ubers everywhere but there is a metro which is rather convenient and buses which I didn't catch once.

Travels
I travelled 8/13 weeks of semester and then for 6 weeks after school. I did Chicago, Boston, NYC, Philly, Charlottesville, Richmond, Nashville, New Orleans, Austin, San Antonio, Goliad, Miami, San Fran, Amish Country, Mexico City and The Bahamas. Top tips are save up, be flexible where you want to go and when and if you see a flight deal jump on it!

Top Tips
Get involved straight away and make sure you travel and explore from the start of your trip or you will run out of time. 6 months FLEW BY!

Read more experiences from The George Washington University here!