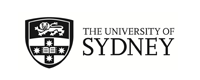 University of Pennsylvania EXC
Philadelphia PA, United States
(Outgoing Program)
Program Terms:
Program Terms:
Semester 1,
Semester 2,
Year (Sem 1 & Sem 2),
Year (Sem 2 & Sem 1)

Partner University Homepage:
Click to visit
Program Details: - unrelated header
Program Details:
Program Description:
Program Description:
About
University of Pennsylvania
Location: Philadelphia, PA
Year Established: 1740
Student population: 24,800 (4,600 international students)
University ranking: 16

About
A private, Ivy League comprehensive teaching and research university, the University of Pennsylvania (Penn) is renowned for its teaching, world-class faculty and quality students. It was established by Benjamin Franklin and boasts a number of world firsts, including the first collegiate business school, Wharton, and the first electronic, large-scale, general-purpose digital computer, ENIAC.

Highlights
Penn's history is closely bound with that of the United States and it boasts several historic landmarks, including the country's first student union and first double decker college football stadium. It's rich with tradition, including the famous Locust Walk, the statue of Franklin on a bench, and its Quakers team. Penn is a research powerhouse, with 165 research centres and institutes on campus, but it's also known for its civic engagement.

Unique characteristics
Penn Abroad's Exchange Student program allows you to spend a semester or year in one of Penn's four undergraduate schools. While at Penn, exchange students:
Take classes at one of the most competitive universities in the United States and have access to internationally renowned undergraduate-level teaching and research programs.

Live on a cosmopolitan university campus in the birthplace of the United States - Philadelphia, Pennsylvania.

Interact with a vibrant and diverse student body of approximately 25,000 undergraduate and graduate students.

Build cross-campus and cross-cultural networks by participating in student clubs and organizations and attending a wide variety of campus events.
The College of Arts & Sciences at Penn offers a distinctive liberal arts education that covers both theoretical concepts and practical applications. Penn Engineering is a pioneer in interdisciplinary education and research. It has world a renowned faculty, state of the art facilities and technological innovation. The worlds first collegiate business school, Wharton was founded in 1881. Since its establishment, The Wharton School maintains a long tradition of educating visionary business leaders in academia, business, government, and not-for-profit organizations.

Location
Philadelphia, the birthplace of the United States, is a major cultural center and the heart of a metropolitan region with a population of more than five million people.The region also has one of the highest concentrations of colleges and universities in the country, making it a vibrant place to spend a semester or year as an exchange student.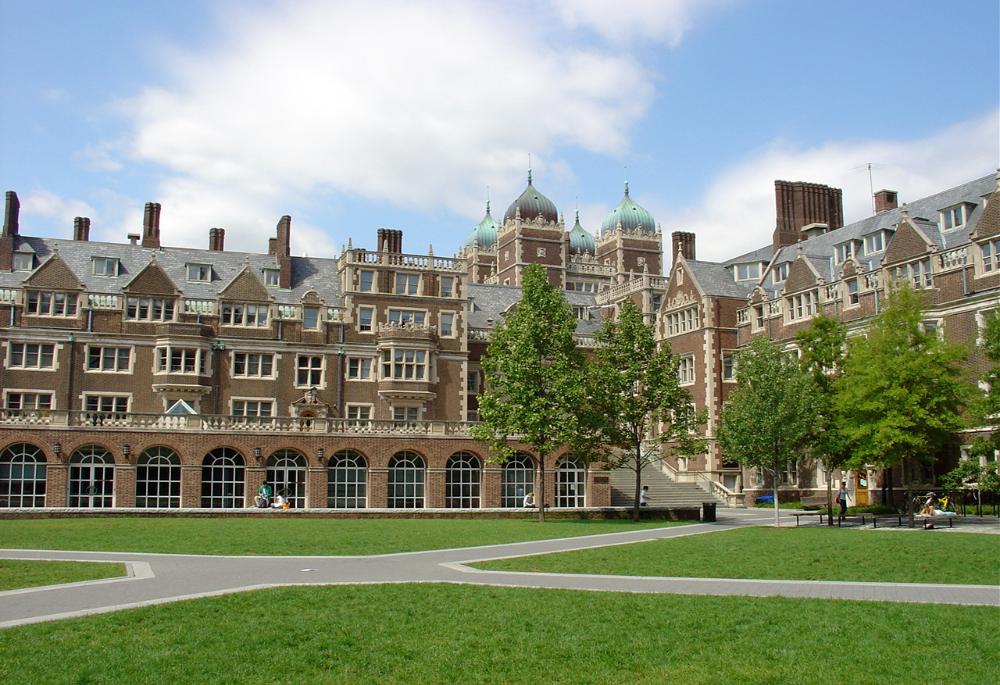 Academic Information
Course Catalogue
Information about units of study at the host university

Subject Area/s: Penn has four Undergraduate schools available to exchange students:
College of Arts & Sciences

School of Engineering and Applied Science

Wharton School

School of Nursing

Teaching Periods: Semesters/Terms
Term 1: August - December
Term 2: January - May
Credit (Full-Time Load/Semester)
| | |
| --- | --- |
| University of Sydney | Host University |
| 24cpts | 5 credit units |
The above full-time load is indicative only.
Applications for academic credit are assessed by the relevant University of Sydney faculty/department based on: study load, contact hours, assessment requirements and level of study.
Grading System
The university uses letter grades from A+ through F, based on a 4-point scale.

Transcripts Issued by Partner
Transcripts will be available at the end of your exchange period

Languages
Language of Instruction
Classes at the host university are taught in English.

Language Requirement
See language requirement for non-native speakers of English.
NOTE: Non-native English speakers who attend English-speaking institutions must sit for the TOEFL OR provide proof that they have been studying at an English-speaking institution for the past three (3) years. Please contact your Sydney Abroad Exchange Adviser so see if you will meet these requirements.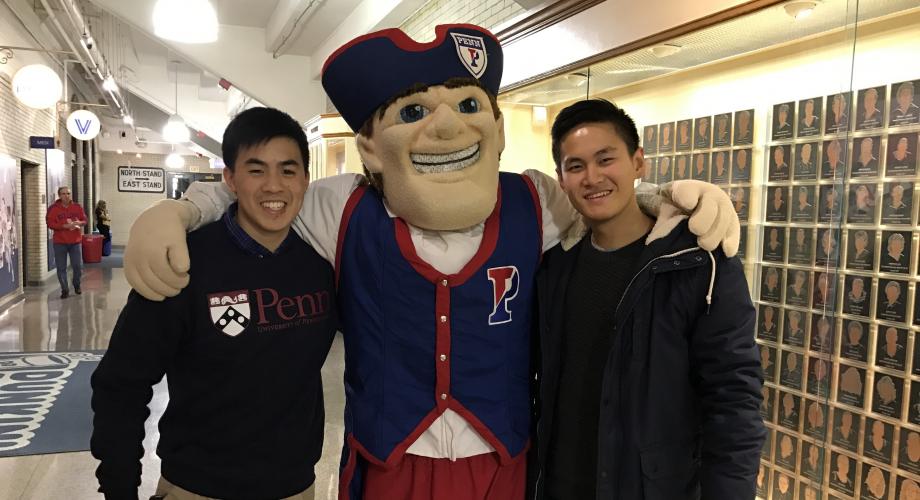 Living
What is the host city like?
Famous as the birthplace of life, liberty and the pursuit of happiness, Philadelphia delivers one destination, five counties and countless things to do: fascinating museums, vibrant parks, national historic sites and famous (and delicious) food.

Accommodation
Living on campus is an essential part of the Penn experience. All exchange students are required to live in on-campus housing and enroll in a dining plan.
Cost of Living
Tuition and student fee charges are waived for exchange students. However, at Penn you must budget adequate funds to cover living and personal expenses in Philadelphia. Exchange students who are not US citizens will be required to show adequate financial documentation to prove they can sustain themselves during the duration of their exchange.
Insurance
Students are required to obtain health insurance valid during their exchange. The Student Health Service Clinical Fee, which includes unlimited nursing and doctor visits, is charged to all Penn students, including exchange students each semester.
Useful Information
For Exchange/International Students
Specific information for exchange students provided by the PennAbroad.

Semester/Term Dates
Access the Penn's calendar.

Orientation
All Exchange students are required to attend orientation prior to their first semester on Penn's campus. During orientation, you will meet with academic advisors, resource coordinators, and other Penn students/staff who will review policies, assist in cultural and academic adjustment, and lead fun events.

Support Services
Penn strives to ensure that campus is safe and accessible for everyone. Policies and procedures have been developed to provide students with as much independence as possible and to promote self-advocacy. Students with disabilities are encouraged to work with Penn's Student Disability Services to ensure appropriate accommodations are made prior to arrival.
Health and Wellness
Students are able to visit Student Health Services for any health issues during their stay at Penn. Exchange students are also able to utilize resources offered by Penn's Counseling and Psychological Services while enrolled at the university.

Visas
Information from the host university
Information from the Embassy of The United States in Australia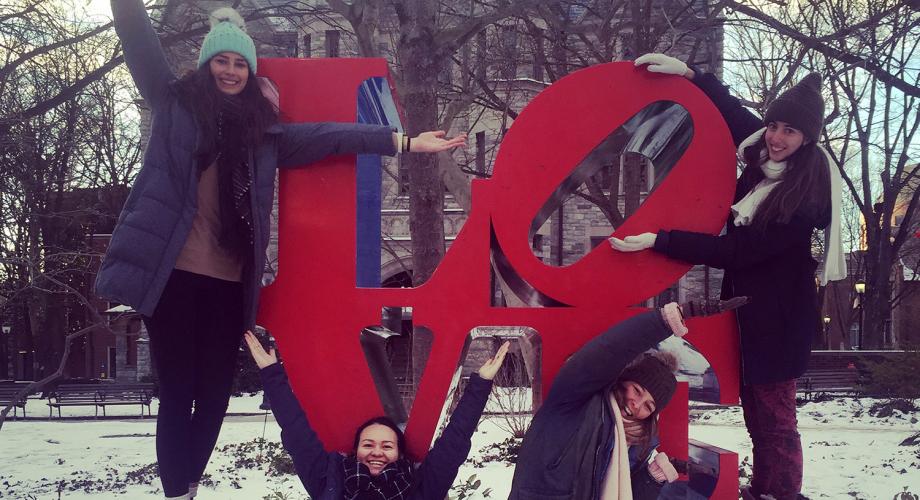 Student Experiences
Bob (Yemeng) Jin
Bachelor of Engineering / Bachelor of Commerce, Semester 1 2018

Host City Highlights
Philadelphia as a city is relatively small in comparison to neighbouring NYC or DC. Historically, Philly is culturally significant and you'll want to check out the Liberty Bell and surrounding buildings to absorb the culture. Then head across to the Art Museum and either explore the art inside, or grab a photo with the Rocky Statue outside. While you're there, consider hiring a bike (Citi share bike or otherwise) and cruise along the beautiful Schuykill River. You'll find some spots on the east shore that'll surprise you...

If you're lucky enough to be there during Spring, definitely check out some of the Cherry Blossoms around, either at Centennial or the UPenn Arboretum. If you're up for shopping, King of Prussia mall is a 30min drive away. It's big.

Uni Life
Aussies are loved here, and you should definitely use that to your advantage when socialising either in class, clubs and societies, or campus parties. Like USYD, UPenn has kind of an elitist feel sometimes (especially those frat boys that live in 'Castle'), but everyone is generally very friendly and outgoing! While Penn does have its own little bubble, really try to connect with Americans you meet in class to break into the social scene. For an extra boost, attend some college events, or even better, join a club or society (they're massive)!

Study
Classes depend on what you're studying really - I did engineering and so this relatively intense, though not so much that I didn't enjoy myself to the fullest. You should expect at least 8 hours of contact hours plus a scattering of assessments throughout the semester so you aren't cramming to death in exam week. Assessments can be an in-class quiz, group lab report, or essay hand-in. I had pretty much every assessment possible in your uni life while I was there...and no exams (my only exam got cancelled, and yes, it was amazing).

Most subjects will have a large lecture, then small seminars/tutes/labs with ~20 students/class. Note: you don't get stuvac week, you get 2-3 'Reading Days' instead!

Cuisine
Although you'll be forced to buy a UPenn dining plan (eurgh..), you'll never be short on new, tasty foods to try in Philly. FYI, Philly is home to the Philly Cheesesteak. Ask any local what their fave is! In Centre City, you'll definitely want to visit the Reading Terminal Markets - try some cannoli and a turkey sandwich, or just eat to your hearts content! Chinatown will fix you some Sydney-esque Asian food at student prices. Visit Rittenhouse Square at night to light up your evening, plus snack in some fancier restaurants. Craving fried chicken? Check our Crown Friend Chicken, Wishbone, and Federal Donuts!

If you're around uni and don't really want to travel too far, some good bites include the $5 CHICKEN AND RICE FOOD TRUCKS that are scattered around the uni. Or Wawa for a $7 2am sandwich. Or Koreana for cheap, tasty korean. Or Shake Shack in Drexel territory...

Housing
As an exchange student, you are required to live on campus in one of the many colleges scattered around the campus, ranging from small 3-storey blocks to 25 level apartment towers. There was also a brutalist 6 storey concrete block called 'Samson West', but has apparently been replaced since. Each college has its own little community, and there is a fun intervarsity rivalry between each!

When signing up, you have the option to choose your room type and your room mates. Room types vary from 2 people shared bathroom + no kitchen, 2 people shared bath and kitchen, and 4 people shared bath + kitchen + small lounge. You also get to request roommates, but I suggest opting not to stay with an Aussie friend in the hope you get a cool American roommate. I chose a 2-person shared bath/no kitchen (ate out most of the time, $$), and had an international Chinese student as my roommate. He was actually an amazing guy, invited me and my aussie mate to his friend's chinese new year hot pot feast, took my on drives out into the suburbs, and was a great help with recommendations!

Money Matters
I budgeted for $20,000 for my entire time in the US, i.e. ~5 months. This included a 1-month long holiday from LA -> San Diego -> Vegas -> Grand Canyons -> Salt Lake City -> San Francisco -> Seattle -> Chicago -> Boston -> Philly -> New York + trips to Cancun, Miami, and Toronto. I lived like a king, and was well under my budget!

Definitely plan your finances well before you leave. Ensure you have a good international account/card setup in Australia (e.g. Citibank or 28 degrees). It might be worth looking into no international ATM withdrawal fees too. BRING YOUR AUS SIM CARD BECAUSE EVERYTHING REQUIRES 2-FACTOR AUTHORISATION NOW. ENSURE YOU CAN LOGIN TO APPS BEFORE YOU GO TO THE US. I also recommend opening up a US bank account with your US student ID so that you can transfer money to it (if needed) using a service like TransferWise.

Getting Around
Rideshare apps are very cheap and convenient, ~US$3 to downtown, anytime, anywhere. I recommend Uber and Lyft, though more may have popped up recently. Local public transport is relatively close and convenient, with metro, bus, and tram stops very close by to the campus. The main intercity bus/train terminal is also within walking distance.

Travels
I recommend the best time to visit is at the start of the year. Experience the transformation of the cold US winter into a beautiful spring/summer. There are generally a lot more events and opportunities in this part of the year (it is the second half of the academic year for them) and so you'll also get to experience their graduation ceremony traditions! As mentioned before, I travelled to many major cities on the US rim and did this via a mix of car rental/flights/Megabus (cheap intercity bus travel). Make the most of your weekdays finishing assessments (pass/fail grade for USYD) so you can go travel on weekends!

Definitely always be on the lookout for cheap deals, as they are plentiful in that part of the US. However, don't only look at price when booking travel - look at the arrival/departure times too, you might save a night's accomodation!

Top Tips
College Choice: Stay in the high-rises as they have a very fun community to live in + are super convenient! Hopefully they have fixed the elevators in Rodin by now...

Classes: You want to choose these early, as it is a dog-eat-dog world getting spots for popular classes over there. Check out www.penncoursealert.com and www.penncoursenotify.com to see if a spot opens in a course that is full. Also check out www.penncoursereview.com to see comprehensive reviews of courses/professors, detailing assessments, difficult,y enjoyment of the course.

Food: Fresh Grocer is convenient but not always the cheapest/freshest...really try to break out of the Penn bubble if you can! The colleges occasionally run free food events, so try to be well connected to hear about those.

Gym: You get free access to the amazing UPenn multilevel gym! Free towel service + showers at the pool, wall-climbing and bouldering, all kinds of gym classes (that give free stuff) + many other great events on their noticeboard, e.g. cheap skiing trips!

Social: Don't be scared about the Greek life, they are actually friendly and would love to be friends with a cool Aussie like you. Go to their 'rushes' or other open event/recruitment. Great way to quickly make a lot of American friends + can get you help with your classes too!

Photo: Emily Blackburn
Bachelor of Science (Advanced), Semester 1 2018