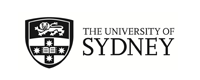 Humboldt-Universitat zu Berlin LAW EXC
Berlin, Germany
(Outgoing Program)
Program Terms:
Program Terms:
Semester 1,
Semester 2,
Year (Sem 1 & Sem 2)

Partner University Homepage:
Click to visit
Program Details: - unrelated header
Program Details:
Program Description:
Program Description:
About
Applications must be lodged through the Sydney Law School directly.
Location: Berlin
Year Established: 1810
Student population: 33,000

About
Founded in 1810 by Wilhelm von Humboldt as the "Mother of all modern universities", Humboldt-Universität zu Berlin gave rise to the modern concept of a university by combining education and research. Since the reunification of Germany in 1990, the University has become the institution of choice for students from around the world due to the breadth of its courses and quality of its research – it's one of the top 10 German universities and has been chosen as a "University of Excellence".

Highlights
Located in the heart of Berlin, Humboldt-Universität is well known throughout the world. It offers a complete range of courses plus countless opportunities outside the classroom – there are sports, choirs, extensive language tuition, the Humboldt orchestra and good facilities for international students. It is part of the European Law School Network and offers tuition from some of Europe's outstanding academics and practitioners.

Unique characteristics
Humboldt-Universität has 11 faculties and several interdisciplinary institutions, clusters and graduate schools. It offers 185 study courses. Some of its most interesting programs are in statistics, management science, polymer science and German and European law. It has a unique gender studies program and it is particularly strong in the Arts and Humanities.

Location
Berlin is the party city that never seems to sleep. Here you can enjoy entertainment in small basement venues to huge dance clubs, sample German food and beer, go to the symphony or theatre, and learn about the city's rich history. The University is based at the former Palais of Prince Heinrich on the avenue Unter den Linden, an important part of the city. There are three main campuses across the city.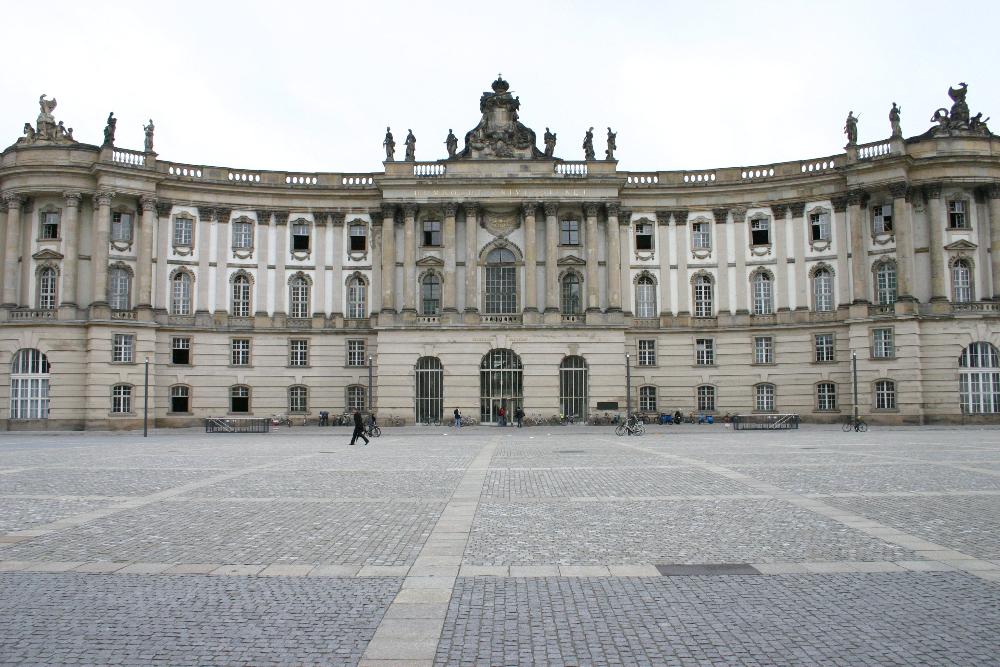 Academic Information
Course Catalogue
Information about units of study at the host university

Subject Area/s: Law

Applications must be lodged through the Sydney Law School directly.
Exclusions apply - consult faculty for details

Teaching Periods: Semesters/Terms
Winter Semester: October-February
Summer Semester: April-July

Credit (Full-Time Load/Semester)
| | |
| --- | --- |
| University of Sydney | Host University |
| 24cpts | 30 ECTS |
University of Sydney students are expected to complete the Grundkenntnisse im deutschen Recht program. Upon completion, they will be awarded a transcript and a University Certificate.
The above full-time load is indicative only.
Applications for academic credit are assessed by the relevant University of Sydney faculty/department based on: study load, contact hours, assessment requirements and level of study.
Grading System
Classes at German Universities are graded on a scale of 1-5, with one being the highest possible score and 5 a fail. More information on the host university's grading system.

Transcripts Issued by Partner
Transcripts will be available at the end of your exchange period.
Languages
Language of Instruction
Classes at the host university are taught in German with limited classes taught in English.

Language Requirement
See language requirement for exchange students. Pre-semester German language courses are available.
Living
What is the host city like?
Find out more information about the host city.

Accommodation
Housing options are offered by the host university.

Cost of Living
Use this guide to estimate living expenses associated with studying overseas. Students pay a fee of approximately €300 per semester to cover university administration fees as well as the "Semester Ticket". With a "Semester Ticket", students can use Berlin's entire public transportation network for 6 months with no additional charge.

Insurance
Students are required to obtain health insurance valid during their exchange.
Useful Information
For Exchange/International Students
Specific information for exchange students provided by the host university.

Semester/Term Dates
Access the University's calendar.

Orientation
A mandatory orientation will be held prior to the start of semester. Orientation and enrolment take place during the first week of October (winter semester) or first week of April (summer semester).

Support Services
A range of support services are available to students at the host university.

Visas
Information from the host university.
Information from German Missions in Australia.
Student Experiences
Lauren Holz
Bachelor of Laws, Semester 2, 2015

Host City Highlights
Berlin is bursting with museums and galleries, not to mention flea markets, food markets, clubs, outdoor karaoke, ice skating, forests, parks and theatre.

Uni Life
Humboldt differs from the University of Sydney in that the club & society scene is active. There are a lot of opportunities for international students to get to know one another though, thanks to events put on by Orbis, the international society. I mainly met local students at faculty events or through shared classes.

Study
Class administration is very different from the University of Sydney - most subjects have no official enrolment procedure - you just show up if you want to take the class, and then register for the exam later. Only a select few classes have a student cap or require pre-registration (usually by emailing the course convener). Most classes have no minimum attendance requirement and there's also much greater variety in course delivery. About half my credit points came from so-called "block seminars", which are intensive courses taught over one or two weekends, and which may run for up to 10 hours a day. My other classes run for 2-4 hours a week each and the course delivery method is normally halfway between lecture and seminar. I have had no mid-semester assessments -- everything is 100% weighted to the final exam or final essay, even though there are some non-graded tasks throughout the semester. The other big difference is readings: there are virtually no required readings for each week, just a wide range of "recommended" readings.

Cuisine
Berlin is much like Sydney in that it's a city of huge diversity - any cuisine you can imagine is probably available here. If you're here during the winter I definitely recommend checking out the city's many Christmas markets, where you'll find a delicious array of hot winter specialities including Glühwein (a must). There are also a ton of food markets - like the one at Boxhagenerplatz or the international food market hall in Kreuzberg - that are definitely worth a visit all year round.

Housing
Housing can be tricky but you're either going for Student Accommodation or private market.
*Student Accomodation: If you opt for this make sure you get in early because places will fill up fast. If you have the choice, the dorms at Adlershof are pretty good. The worst part is that they're about an hour away from the uni, but the student community there is quite tight-knit and the facilities are new and good.
*Private market: I rented a room in an apartment in Mitte with two non-students - an Australian guy and a Spanish girl. Securing a room can be a challenge, especially if your German isn't good, but it's worth it if you can secure a good location. Try websites like "wg-gesucht" and make sure to a) persevere and b) keep an eye out for scams.

Money Matters
To be safe I'd recommend budgeting 500 euros a month for rent and bills. Food and discretionary spending depends entirely on your lifestyle and preferences – I had a few friends who also worked while studying, so that's an option for supplementing expenses.

Getting Around
University students get free unlimited transport in return for paying the university's compulsory semester fee. The network is very comprehensive --you have buses, trams, S-Bahn (above-ground rail), U-Bahn (underground rail) and also (RE)gional trains if you're heading out to Potsdam or up to Oranienburg for the day. Aside from a higher risk of pick-pocketing, it's as safe as or safer than public transport in Sydney, frequent and punctual. My one complaint is that a lot of U- and S-Bahn stations don't have any wheelchair access and can be tricky for people who struggle with stairs.

Travels
Get to Europe in July to take advantage of travel in the summer months - all up I've been to Dubrovnik, Budapest twice, Prague twice, Munich, Chiemsee, Dresden, Vienna, Venice, Warsaw, Paris, London three times, Edinburgh and Riga. Travelling on a student budget is pretty easy in Europe and travelling with friends will reduce costs further still. Always check multiple sites when booking accommodation.
Bahncard - If you can find the right deal, sign up for a 3-month trial BahnCard 25, which entitles you to 25% off rail travel with Deutsche Bahn. This card can also have bigger benefits: my proudest moment was getting a 200 euro return rail journey for 49 euros thanks to a windfall BahnCard deal
Long distance buses – There are almost always the cheapest form of intercity travel but I have never once taken one which kept to its schedule, so factor that in.
Skyscanner – Use this to browse the flight deals for your given dates and then choose your destination accordingly. Ridiculously cheap flights in Europe are available if you plan ahead and don't take cabin baggage (as low as 9 Euros).
Eurail – I would recommend against it, planning efficiently and buying point to point tickets are always cheaper.
Top Tips
Law units in English - Although it's definitely worth going to classes in German too, Humboldt offers a lot of law units in English and if you plan carefully it's actually possible to do all your final exams in English. If you're interested in a class that requires pre-registration, get in ASAP to ensure you will have a spot.
Facebook groups - Also, Berlin has an amazing share mentality, so I highly recommend you join groups like "Free Your Stuff Berlin" and "Free Advice Berlin" to get off to a running start in the city.
Free German classes - Instead of paying for any pre-semester intensive German classes, it's much better to wait for the courses that run at the Sprachenzentrum during semester because you can almost certainly get a document from Humboldt entitling you to free classes (four hours per week) when you complete your enrolment.
Pictured: "Human will can move anything - This building once stood in another country"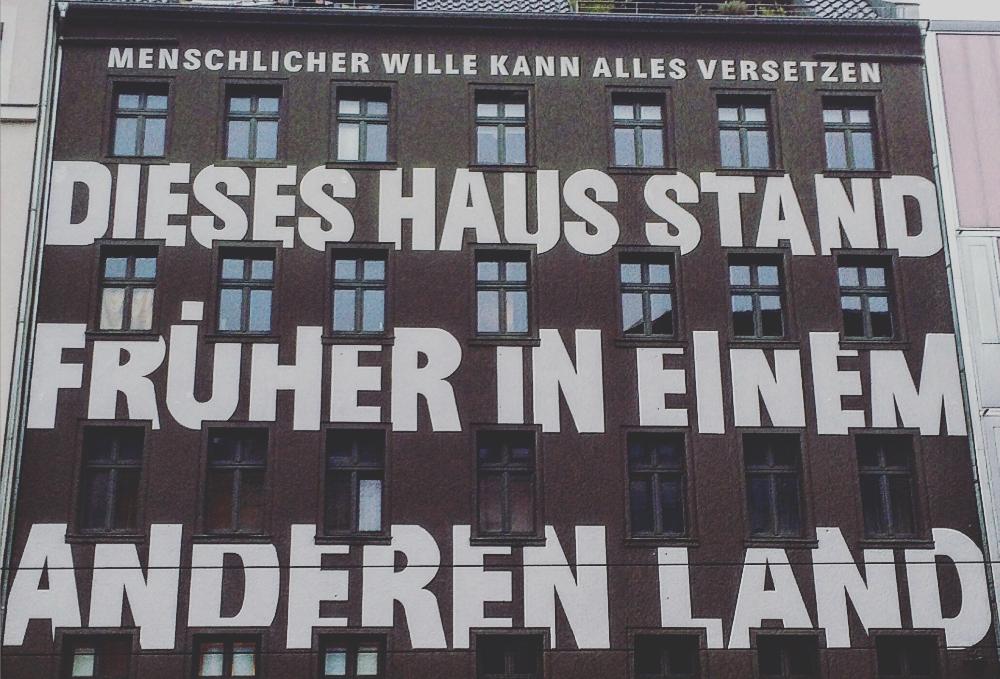 Want to read more experiences from Humboldt? Find more here: http://bit.ly/2fny0Sz